Description
A simple test for levamisole, phenacetin and ephedrine in cocaine (these substances pose serious health risks). This test does not react to cocaine itself. To identify cocaine and determine its purity, EZ Test Cocaine & Crack or EZ Test Cocaine Purity are also required.

Included:
1x ampoule
1x set of instructions
1x colour scale to check the result

Warning!
The EZ Test can only provide an estimate of the substance in the sample. This means that no 100% guarantee can be given. If you still have doubts as to the substance's composition, arrange for a test by an official body. We accept no liability for the correctness of the results.
Item weight:

0,02

kg

VPE anzeigen:
nein
Reviews
There are no reviews in the current language.
Recommended products: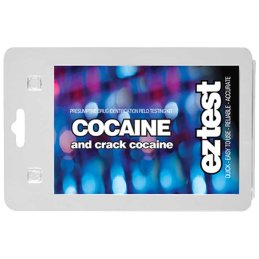 EZ-Test Cocaine & Crack Cocaine
EZ-Test Cocaine Purity