Description
hubey MT mix improves the plants health and resistance, stimulates the root growth and results in better growth, flower formation and yield performance.
In the nature, trichoderma form a symbiosis with plants and support their power of resistance.
Mycorrhiza connect with the plants root system and, with a fine root system digging deep into the ground, expand the intake capacity of nutrients of the plants.
Powerful microorganisms release nutrients in the soil, so they are available for the plants.
hubey MT mix can be applied universally in all crops. There are no admission restrictions.
hubey MT mix should be applied preferably early at the seeding, propagation by cuttings, after roguing or after repotting.
Globally, trichoderma harzianum, mycorrhiza and microorganisms are successfully applied at ornamental plant and vegetable growing for years.

The advantages of hubey MT mix at one glance:
faster, better root penetration
ideal effect especially at suboptimal crop conditions
increases the yield through
higher rooting / germination ratio
higher dry weight
more blossoms
earlier blossoms
shorter crop period
selected highly effective stem under permanent quality control
easy application, good miscibility with fertilizer, pesticides
applicable in all crops
excellent price-performance ratio
long product durability
gentle to useful creatures
Active agent:
Trichoderma harzianum, endomycorrhiza, ectomycorrhiza and soil bacteria on inert substrate. For the stimulation of the plants growth and the improvement of the plants vitality.

Soil additive using living microorganisms.
Suitable for any plant.
---
Item weight:

0,10

kg

Content:
50,00 g
VPE anzeigen:
ja
Reviews
There are no reviews in the current language.
Recommended products: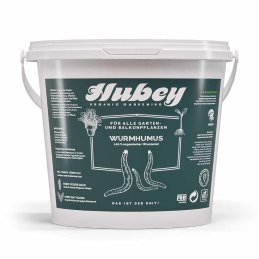 hubey® worm humus, 5 liters worm manure