Description
For smaller and larger rooms as well as price-conscious customers the Irrigation Set Economy by GIB Industries can be used for the irrigation of up to eight plants.
The head of the water can be max. 0.5 m and the horizontal distance of the plants can be max. 1m.
You can use the included small pump in sweet- and in sea water as a circulation pump for biological filters.
The pump of the Irrigation Set Economy must be fully immersed in the water to reach the max. diameter of water jet.
The set Economy comprises:


1 x pump 400 l/h, 5W 
1 x 30 cm PVC water hose SUNFLEX, 3/4?
1 x hose clamp
1 x PE end plug with end cap 
1 x PE screw connection 
1 x PVC connecting coupling 
1 x 5 cm PVC pipe 
1 x PVC end cap, 32mm 
1 x nozzle distributor + hoses 
8 x drip line holders
Item weight:

0,90

kg

VPE anzeigen:
nein
Reviews
There are no reviews in the current language.
Notify me when this item is available
Recommended products: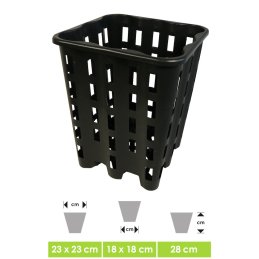 Fast-root pot squared, ca. 23 x 23 x 28 cm Vol. 9,6 Ltr.